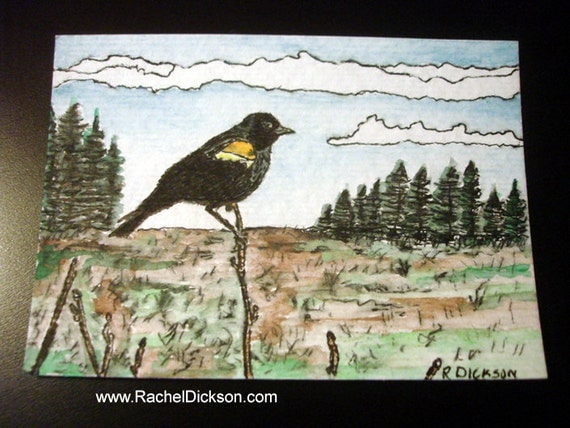 I've have had a fascination for pen and ink and watercolor mixed media art for a LONG time. And it finally dawned on me...duh...why don't you try this for yourself?
Viola!! Here's one of four new pieces I've created. This one of a red-winged blackbird (welcome back to Northwest Ohio chatty birds now that it's Spring).
We started seeing the red-winged blackbird flitting about around here a few weeks back. There song is a pleasant reminder that warmer temps are finally here!
I uploaded a new audio blog post yesterday about red-winged blackbird complete with audio clip of his song.
You can check that out here.
I will soon be posting some information about what ACEO's are and how they originated and such. (This little blackbird piece is an ACEO (2.5x3.5 inches). ACEO stands for Art Card Editions and Originals.
Drawing has become such a fun practice for me...but now watercolor is a whole other ball of wax. Kudos to all you artists out there who master this medium. To me...not so easy...but I'm learning.
To see more new art
click here.
Onward and upward for the arts!